EDIT MAIN
BOOSTER CLUB NEWS
Blue Devil Fans –
By now, you have received in the mail your annual membership request form from the West Central Booster Club. Thank you all for your past contributions and thank you in advance for your donation for the 2020-2021 membership drive. If you by chance have not received a Membership Form, click here. You may turn your forms into any Booster Club Board Member, main office or any high school athletic concession stand.
Please join us and help support West Central Activities. Check out the District Calendar for upcoming events!!
Please support the West Central programs by making your monetary donation and/or helping in the concession stands.
We are very grateful for your continued generosity!!
Go Blue Devils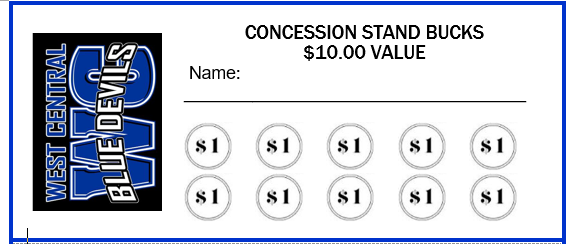 The West Central Booster Club will be offering a easy way to purchase your favorite concession items this year. We are offering Concession Stand Punch cards in the value of $10 that allows students, teachers and spectators an easy and speedy way to purchase snack items. No more searching for cash at every game! Punch cards are accepted at each home concession stand location. Cards do not expire and are nonrefundable if lost. The Punch cards can also serve as a great gift idea for birthdays, recognition gifts or stocking stuffers at Christmas time. If you would like purchase a punch card or would like more information, please contact Janice Gordon at 563-920-2770. Please stop by the Booster Club to purchase your West Central fan-go-er's a Blue Devil Concession Stand Punch Card for $10.00 in addition you will have an opportunity to purchase a WC Blue Devils Lanyard for $5.00 (comes with a plastic holding pouch) to hold your students activity card and Blue Devils Concession stand punch card.
---
WELCOME
Purpose: WCBC is to promote interest in and good will toward all student activities of the West Central School; to unify community, school spirit, and support; to give support to our students and programs; to inspire academic achievement by presenting special awards; to develop good sportsmanship, citizenship, cooperation, responsibility, and build good character; to develop youth recreational activities; and give financial support.
*It is NOT the purpose of the WCBC, and it shall have no power or authority to interfere in any manner, directly or indirectly, with the administration of the West Central Community School, its instructors, coaches and their policies or its students.
---
2019-2020 BOARD OF DIRECTORS
| | | | |
| --- | --- | --- | --- |
| Angie Squires- President | 563.920.5718 | Randy Fink | 563.578.8630 |
| Sarah Michels -Vice President | 563.920.4991 | Julie George | 563.637.2283 |
| Alli Ingels-Secretary | 319.440.7874 | Randy Moore | 563.578.0056 |
| Janice Gordon-Treasurer | 563.920.2770 | Jamie and Amber Vick | 319.215.9107 |
| Stacy Fink -Arts Rep | 563.637.2637 | Heidi Eitel | 563.422.1980 |
| Steve Milder - Athletic Rep | 563.637.2662 | | |
| Deb Opperman | | | |
---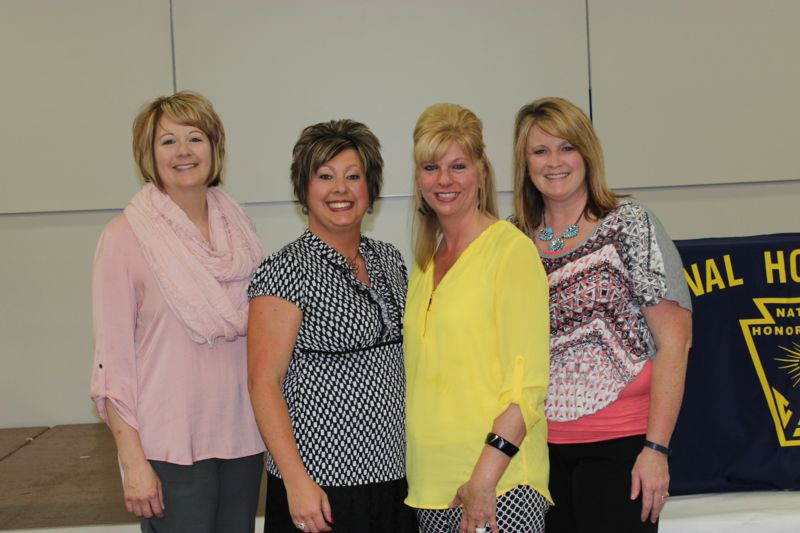 Booster Club officers: Sarah Michels, Angie Squires, Janice Gordon and Alli Ingels
---
WEST CENTRAL APPAREL
---
WC BOOSTER CLUB THANK YOU
We just had to take a moment to say THANK YOU WEST CENTRAL COMMUNITY!
2018-2019 was an incredible year, and we just had to take a moment to say THANK YOU to our West Central family member's, WC Alumni, community members and corporate sponsors who helped make it happen! Please know that your generous donation positively affects each student's experience here at West Central! We are very grateful for your continued generosity. Without your financial contributions and the volunteering of your time, we could not continue to provide assistance to our school, coaches, players, and students. Thank you to our loyal fans that are out there cheering on our athletes, those of you who have supported our different fundraisers, and our committed volunteers who have helped in our busy concession stands throughout the year. Your help is not only appreciated but also vital to the success of the Booster Club. The Booster Club is excited about this upcoming year as we strive to continue the level of excellence that is a tradition here at West Central. BLUE
---
BOOSTER CLUB MEMBERSHIP
| | | |
| --- | --- | --- |
| Mary Adkins | Pat & Karla Grennan | David & Marcia Palas |
| Al & Judy Albrecht | John Harrison | Brice & Kim Pape |
| Bruce & Diane Anderson | Erhart Hehr | Bruce & Jean Pape |
| Gary & Toni Angle | Bryan & Heather Hiemes | David & Sharon Reay |
| Appliance Plus* | Gene & Carol Holtz | Mark & Nichole Recker* |
| Bank 1st* | Bruce & Ronda Huckins | Eldon & Shirley Rose* |
| Ryan & Bobbie Jo Bergan | Marvin & Sue Hrubes | Dean & Kay Rueber |
| Jeff & Diane Blaker | Chad & Tammy Ingels | Daryl & Jackie Ruff* |
| Tom & Julie Bloom | Jeff & Alli Ingels | Lee Ruff* |
| Red & Nina Brickman* | Sue Ingels | Rich & Linnae Scheffel |
| Bill & Diane Brownell | Jamison-Schmitz Funeral Home* | Joyce Sherman |
| Darlene Buchheit | Jerry & Mary Jellings | Randy & Sheryl Sherman |
| Lyle & Valerie Buehler | Kay Kent | Dale & Elizabeth Spratt |
| Lance & Katie Buhman | Dave & Diane King | Chad & Angie Squires |
| Jeff & Jennifer Bunn-Bunn Services* | Brad & Kelli Kleppe | Karen Squires |
| Loyce Bunn | Curtis & Bobby Jo Larson - TNC Properties LLC | Blue Devils Cast - Dan Stasi |
| Teri, Stephanie & Michael Burkey | AW, Douglas, & William Martin | Leo & Joan Steffen |
| Lyle & Karmen Bushkofsky | Denny & Sue Martin | George & Janice Steinbronn |
| Steve Carey | Fred & Kimberly Matlage | Miranda Steinbronn |
| Rick & Connie Cole * | Maynard Savings Bank* | Glenda Suckow |
| Jim & Darise Donat | Cheryl Melchert | Craig & Suzanne Thomas |
| Savannah Dudley | MercyOne | Chad & Tara Thompson |
| ECHOVISION - U.S. Cellular Authorized Agent* | Cory & Sarah Michels | Rich & Lynn Thompson |
| Robert & Lorraine Eldridge | John & Nickey Michels Farm and Michels Mary Kay Consultant* | Curtis & Cathy Timmerman |
| Chris & Carla Even | Steve & Marsha Milder | Zac & Lois Tyler |
| Shirley Fettkether | Randy & Julie Moore | Gerry & Elaine Vandevorde |
| Gary & Tammi Fink | Mary Ann Munger | Danielle Grimm & Jason Volker |
| Randy & Gail Fink | Oelwein Veterinary Clinic - Ken & Amy McDonough | Bill & Tammy Walenceus |
| Rollin & Luann Fink | Oelwein Dental Associates | Casey & Tricia Wells |
| Scott & Stacy Fink | Curtis & Robyn Orr | Lew & Kay Wescott |
| Bruce & Robin Fliehler | | Bonnie West |
| Jeff & Lisa Forsyth | | |
| Nigel & Julie George | | |
| Chris & Janice Gordon | | |
| Dustin Gordon | | |
| Lyle & Julie Gordon | | |
| Updated 1/16/2020 | * $250 Sponsors | |
---