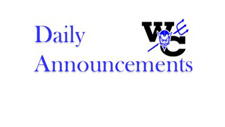 Daily Announcements
Robin Fliehler
Tuesday, May 11, 2021
Daily Announcements
Tuesday, May 11th
Day 160
Today's Activities: Fine Arts and Senior Awards and Scholarships 6:30pm
WEDNESDAY: 2:10 Dismissal
THURSDAY: 6th-8th Grade field trip to EWALU
District Track @ Grundy Center 4pm - leaving at 1:30, dismiss at end of 6th hour
FRIDAY:
Golf @ Ossian 9am
B JH Conference Track @ Postville 4pm - leaving at 2:45, dismiss at 2:35
G JH Conference Track @ Kee 4pm - leaving at 1:50 - dismiss at 1:40 Commencement 7pm in the Klinge Gym
Seniors: please stop in the office and pick up a sign out sheet. This must be completed by Friday.

All seniors need to report to the MS Science room on Wednesday during 6th hour (11:35) to complete the Conditions for Learning Survey. If you cannot attend in person please email Mrs. Baumgartner. This survey must be completed before graduation.

Juniors who are not on campus during 9th hour need to report to 9th hour on Tuesday OR meet with Mrs. Baumgartner in Mr. Huckins room on Wednesday during 6th hour to complete Conditions For Learning.

Juniors and seniors, please check your email for your CPR cards.

There is a sign-up sheet in the office for those interested in trying out for football cheerleading. Tryouts will be next week sometime. If anyone has any questions they can come and ask Ms Bergman.