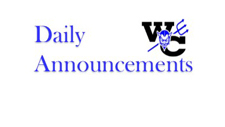 Daily Announcements
Robin Fliehler
Thursday, May 06, 2021
Daily Announcements
Thursday, May 6th
Day 157
Today's Activities: Freshman Orientation 7:45 in the auditorium Golf @ Turkey Valley 4pm - leaving at 2:15, dismiss at end of 7th hour Conference Track @ NFV @ 4pm - leaving at 2:45, dismiss at 2:35
Tomorrow's School Board Grilling Day. When you go through the lunch line you will need a ticket with the kind of sandwich you "ordered." High School, when the bell rings at noon for lunch, report to the listed classrooms for your ticket. 7th-12th, the following is where you will receive your tickets: 7th Grade - Schultz 8th Grade - Lois (find in the lunchroom) 9th - Fliehler 10th - Wild 11th-12th - Wells

Seniors: caps and gowns are available in the office to be picked up.

Senior athletic/activity posters are in the office to be picked up and taken home.
4. Sophomore student meeting Friday, May 7th, in Mrs. Bowers room 9th hour.