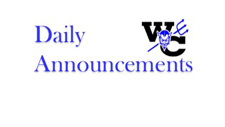 Daily Announcements
Robin Fliehler
Tuesday, March 30, 2021
Daily Announcements
Tuesday, March 30th Day 134
Today's Activities:
WEDNESDAY: 2:10 Dismissal
THURSDAY-TUESDAY Spring Break
Driver's Ed will start next month. If you are interested in taking the class, the deadline for registration is March 31st.

The 7th and 8th graders will be participating in a virtual career fair on Wednesday from 9:00- 10:35. The 7th grade will be in Mrs. Schultz's room and the 8th grade in room 129, Mr. Huckins room. You will need your chrome book and headset or earphones. The link will be sent to your school email tomorrow morning.