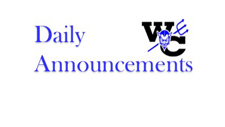 Daily Announcements
Robin Fliehler
Wednesday, February 10, 2021
Daily Announcements
Wednesday, February 10th
Day 101
Today's Activities: 2:10 Dismissal; Conference Bowling @ Cadillac Lanes/Wloo
THURSDAY: JH B @ Tripoli 4:15pm - leaving at 3:05 - dismiss at 2:50 V G @ Central 7pm - leaving at 5:30
FRIDAY: JH B @ S-F 4:15pm - leaving at 3:15 - dismiss at 3:00 Boys District Basketball vs Clarksville 7pm
Mid-term will be Friday the 12th.
FREE HUNTERS ED CLASS in Cedar Falls on Feb 20th 9am to 5pm for those 16 years old and up. Message Tasha ASAP to sign up 319-795-2549

ANYONE interested in Individual Speech AND/OR the spring play---Even remotely interested---please bring your lunch to Mrs. VandeVorde's room on Thursday for a brief meeting.

Thursday there will be an ISTEP photo, during lunch, for the yearbook.
Next week is West Central Kindness Week. Join in the fun next week and help celebrate Kindness Week with these dress up days. (PK-12)
Monday: "Dreaming of Kindness" wear PJs
Tuesday: "We LOVE Kindness" wear pink or red
Wednesday: "Crazy for Kindness" wear crazy socks or mismatched clothes
Thursday: "Peace, Love and Kindness" wear tie-dye or peace signs
Friday: "Blue Devil Kindness" wear blue or blue devil gear