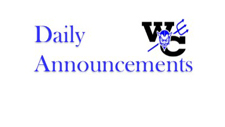 Daily Announcements
Robin Fliehler
Tuesday, February 09, 2021
Daily Announcements
Tuesday, February 9th
Day 100
Today's Activities: JV/V B vs Kee 6:15pm
WEDNESDAY: 2:10 Dismissal
THURSDAY: JH B @ Tripoli 4:15pm - leaving at 3:05 - dismiss at 2:50 V G @ Central 7pm - leaving at 5:30
FRIDAY: JH B @ S-F 4:15pm - leaving at 3:15 - dismiss at 3:00 Boys District Basketball vs Clarksville 7pm
Mid-term will be Friday the 12th.

FREE HUNTERS ED CLASS in Cedar Falls on Feb 20th 9am to 5pm for those 16 years old and up. Message Tasha ASAP to sign up 319-795-2549

Congratulations to Erin and Octavia! They earned Straight I's at the State Competition last night at North Fayette Valley. All three judges rated their performance as EXCELLENT. Well done girls! We hope to hear about an All-State nomination next week!

If you plan on purchasing Valentines from the Student Government, money and order forms are due in the office TODAY.