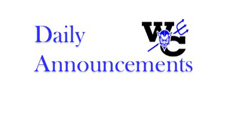 Daily Announcements
Robin Fliehler
Thursday, January 28, 2021
Daily Announcements
Thursday, January 28th
Day 94
Today's Activities: JH B vs So Winn 4:15pm QUAD @ So Winn 4pm/6:15pm - leave 2:30 - dismiss 2:15
FRIDAY: QUAD @ Turkey Valley 4:30/6:15pm - leave 3pm - dismiss end of 8th hour
A Junior class Prom meeting will be held in the art room on Sunday, January 31 from 5:30 to 7:30. We will be talking about decorations, photographer, DJ, and all other accessories that will go with the dance.

All PE classes next Monday and Tuesday (February 1st and 2nd) will be held outside with a guest presenter on snowshoeing, so dress accordingly.

Sign up sheets are posted on Mrs. VandeVorde's door for Individual Speech and Spring Play. Please sign up this week!