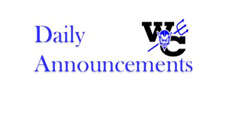 Daily Announcements
Robin Fliehler
Tuesday, January 12, 2021
Daily Announcements
Tuesday, January 12th
Day 85
Today's Activities: JH B BB vs NFV @4:15
Quad BB vs Central @6:15
Wednesday:
2:10 dismissal
Thursday:
V G/B BB vs Cedar Valley Christain @6:15
Friday:
JH B BB vs Clarksville @4:15
Quad BB @ South Winn @4:00
A reminder for high school PE students this semester:
4th hour PE is on Mondays and Fridays.
5th hour PE is on Tuesdays and Thursdays.
7th hour PE is on Thursdays and Fridays.