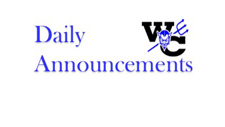 Daily Announcements
Robin Fliehler
Friday, January 08, 2021
Daily Announcements
Friday January 8m 2021 Day 83
Today's Activities: 1:10 Dismissal
End of semester
QUAD @ Kee 4pm/6:15pm - leaving at 2:15
Mr. Milder has 2 sections of Dev Psych &:15 will be 9th and 10th graders and 8:15 will be 11th and 12th graders.

College textbooks should start arriving today. Please see Mr. Milder.

Students signed up for a college class, log on to NICC/Brightspace and make sure you are enrolled. If the class is online please log into that course today!

Students that had Personalize Learning Considerations (PLC's) allowing you to come in late or leave early- they expire today. A new form must be turned in with a parent signature and Mr. Milder's signature prior to you being allowed to leave or come in late. Forms are in the office.