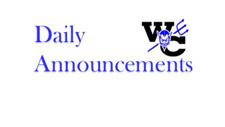 Daily Announcements
Robin Fliehler
Thursday, December 03, 2020
Daily Announcements
Thursday, December 3rd
Day 65
Today's Activities:
FRIDAY: QUAD vs South Winn 4:30/6:15 ; Bowling @ South Winn
1. Basketball pictures have been moved to December 8th. This will include JH boys too. Pictures will start with JH G/B during 9th hour.
2. JH boys interested in playing basketball, please sign up in the office by Friday.