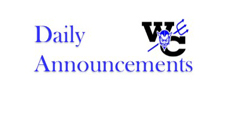 Daily Announcements
Robin Fliehler
Tuesday, November 24, 2020
Daily Announcements
Tuesday, November 24th
Day 60
Today's Activities:
None
WEDNESDAY: 1:10 Early Dismissal
THURSDAY: Thanksgiving
FRIDAY: No School
1. Those students interested in participating in Large Group Speech please sign up with Mrs. VandeVorde. Practice will begin after Thanksgiving break.
2. WC Student Government is hosting a food drive. Can goods will be collected during lunch. JH please give to your classroom teacher.
3. NICC is offering winterim classes this year online beginning Dec 17th and ending Jan 20th. They are offering reduced tuition and like summer classes, you are responsible for tuition and books. See Mr. Milder if interested.
4. Basketball pictures have been moved to December 8th.
5. Basketball tshirt and WC face masks order forms are due in the office TODAY.