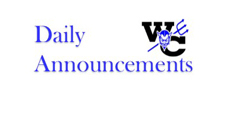 Daily Announcements
Robin Fliehler
Thursday, November 19, 2020
Daily Announcements
Thursday, November 19th
Day 58
Today's Activities:1:10 Dismissal
FRIDAY: JV/V B BB @ Central City CANCELLED
Those students interested in participating in Large Group Speech please sign up with Mrs. VandeVorde. Practice will begin after Thanksgiving break.

WC Student Government is hosting a food drive to support families in need in our community. We are asking for students in grades 6-12 to help donate food. Each good counts as one feather towards a teacher of your choice. The teacher with the most feathers will have to wear a turkey hat on the 25th (11/25). Our goal is 300 items, please join us in supporting our community this holiday season!

NICC is offering winterim classes this year online beginning Dec 17th and ending Jan 20th. They are offering reduced tuition and like summer classes, you are responsible for tuition and books. See Mr. Milder if interested.

Only 5 athletes have helped contribute to the athletic fund by participating in the Lift-a-thon/Jump-a-thon. Mr Milder will be in the weight room tomorrow before school and 9th hour.

Get your Blue Devil FAN Apparel. Limited Time Only. Perfect Christmas Gifts. Order Deadline: 20Nov20. https://westcentralboosters202...