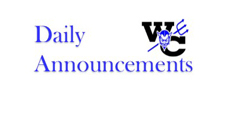 Daily Announcements
Robin Fliehler
Wednesday, November 18, 2020
Daily Announcements
Wednesday, November 18th
Day 57
Today's Activities: 2:10 Dismissal
THURSDAY: 1:10 Dismissal
FRIDAY: JV/V B BB @ Central City CANCELLED
JH sporting events have been cancelled until further notice. HS sporting events are cancelled or postponed until after Thanksgiving.

Those students interested in participating in Large Group Speech please sign up with Mrs. VandeVorde. Practice will begin after Thanksgiving break.

Mr. Milder will be available today, after school, to administer testing for the jump-a-thon and lift-a-thon.

Starting today, WC Student Government is hosting a food drive to support families in need in our community. We are asking for students in grades 6-12 to help donate food. Each good counts as one feather towards a teacher of your choice. The teacher with the most feathers will have to wear a turkey hat on the 25th (11/25). Our goal is 300 items, please join us in supporting our community this holiday season!
5. ISTEP activity is planned for Thursday, WC tobacco coalition members will meet at 7:00am.
6. Mr. Milder needs to send lists of students taking college class 2nd semester to NICC before Thanksgiving. He will be in the cafeteria the next three days to help students with their Concurrent choices.
7. NICC is offering winterim classes this year online beginning Dec 17th and ending Jan 20th. They are offering reduced tuition and like summer classes, you are responsible for tuition and books. See Mr. Milder if interested.