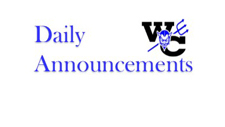 Daily Announcements
Robin Fliehler
Monday, November 16, 2020
Daily Announcements
Monday, November 16th
Day 55
Today's Activities: None
TUESDAY: JH G BB vs Postville 4pm; JH W @ Ed-Co 4:30 - leaving at end of 8th hour
WEDNESDAY: 2:10 Dismissal
THURSDAY: 1:10 Dismissal; JH W @ Lisbon 4:30 - leaving at 2:45
FRIDAY: JV/V B BB @ Central City 5pm - leaving at 3:30pm
A-Lift-A-Thon; Jump-A-Thon is under way through the end of this week. Both male and female athletes are being asked to get sponsors who will financially back their effort in one or both of these endeavors.

Mr. Milder will be available both today and tomorrow, 9th hour, to administer testing for the jump-a-thon and lift-a-thon.

Beginning this Wednesday, WC Student Government is hosting a food drive to support families in need in our community. We are asking for students in grades 6-12 to help donate food. Each good counts as one feather towards a teacher of your choice. The teacher with the most feathers will have to wear a turkey hat on the 25th (11/25). Our goal is 300 items, please join us in supporting our community this holiday season!

ISTEP activity is planned for Thursday, WC tobacco coalition members will meet at 7 that morning.

Kudos to Erin Hamlett and the cast and crew of Please Fund the Arts! We hope the Middle School enjoyed the first showing on Friday afternoon and we are so happy our families could be in the audience on Friday and Saturday nights. Congratulations to Erin for a great script and to our first-time performers, Abby Squires, Alan Streittmatter, and Isaac George. Erin Hamlett and Octavia George showed excellent leadership in their directing abilities. With our experienced cast, it was a wonderful team effort and proved to be very enjoyable entertainment both nights. Be sure to check the school website and our Facebook page for a link to watch the show yourself.