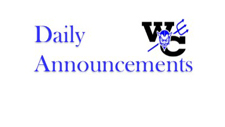 Daily Announcements
Robin Fliehler
Thursday, November 12, 2020
Daily Announcements
Thursday, November 12th
Day 53
Today's Activities: JH G BB @ SoWinn 4:15pm - leaving at 3:15; JH W @ Starmont 4:30
FRIDAY/SATURDAY: Fall Play -for family of cast only
To help offset Covid effects to the financial support of activities, a-Lift-A-Thon; Jump-A-Thon is being held through next week. Both male and female athletes are being asked to get sponsors who will financially back your effort in one or both of these endeavors. Get you sheets from Coach Milder and help do your part to counter the Covid effect.

Anyone interested in joining Food and Fitness there will be an informational meeting on Friday (the 13th), 9th hour. Let Bonnie know if you are interested.

Those who have registered for spring PICC classes with NICC, please log on to see if you are enrolled in those classes.

No open gym on Monday or Wednesday anymore.