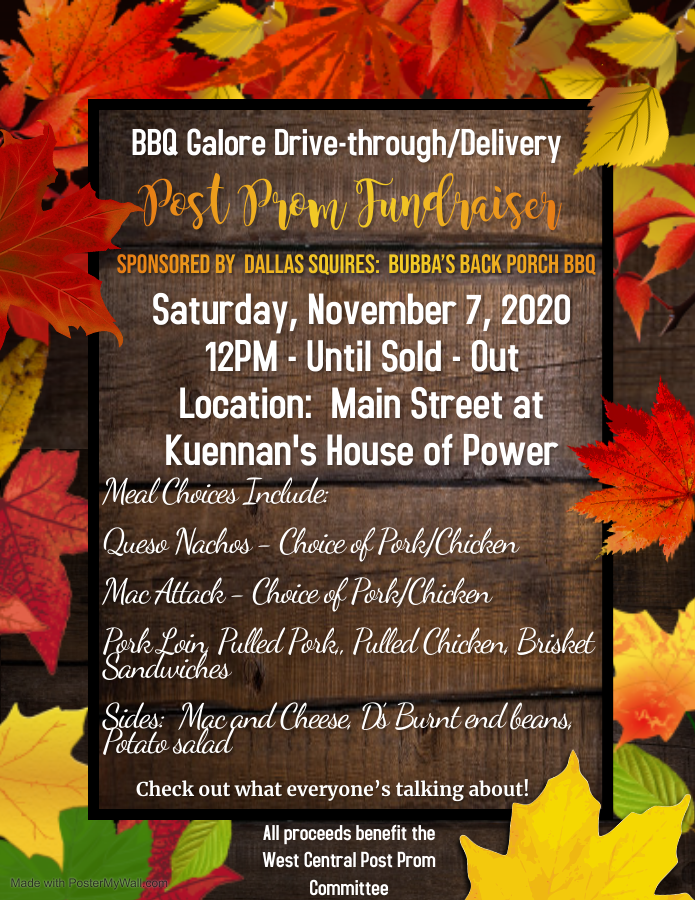 BBQ Galore
Robin Fliehler
Sunday, November 01, 2020
BBQ Galore Drive-through/Delivery - West Central Post Prom Fundraiser
Sponsored by: Dallas Squires, Bubba's Back Porch BBQ
All proceeds benefit the West Central Post Prom Committee
Check out what everyone's talking about!
On Saturday, November 7, 2020 starting at 12:00 (noon) we will be serving Bubba's Back Porch BBQ award-winning BBQ in Maynard, Iowa. We will be set up on Main St.at Kuennan's House of Power. Our very own West Central Junior Class students will be helping out Dallas in the kitchen, taking orders, in town deliveries and curb side pickups. Please help spread the word with a like and a share!! Thank you!
Meal Choices Include:
#1 - $10 - Queso nachos- chips piled high with your choice of meat smothered in queso cheese and drizzled with BBQ sauce!!
#2 - $8 - Mac Attack- double serving of our homemade Mac and cheese topped your choice of meat Pork or Chicken, drizzled with BBQ sauce.
#3 - $5 Sandwiches
A - Pork loin B - Pulled pork C - Pulled chicken
#4 - $8 Brisket Sandwich
#5 - $2 sides
A - Mac and Cheese B- D's Burnt end beans C - Potato salad
Please consider ordering a couple days in advance to ensure we have plenty of food on hand. We also welcome walk-ups as well. Offering curbside pickup and delivery within Maynard City Limits. Please send a picture of your order via text to Amy Steinbronn: 319-350-6837 or call and leave a message on her voicemail.
* Required Information*
Name:
Phone Number:
Time of Pickup: (Make & Model of car)
Delivery Address:(Offering in town Maynard only)
Order Details: Item Number, Letter Option, quantity of each item number or Letter Option
Preferred Payment Option: Cash, Check or Venmo: WC Post Prom Committee (Please include "BBQ fundraiser" in your notes Venmo)
Share the event and tag a friend. Please support our fundraising efforts to provide a fun and safe place for our students to attend After Prom.