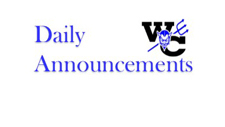 Daily Announcements
Robin Fliehler
Friday, October 30, 2020
Daily Announcements
Friday, October 30th
Day 44
Today's Activities:
Saturday State Cross Country Meet at Fort Dodge: Girls @10:30 and Boys @11:00
Full face masks are not allowed in the classroom. Once you enter a classroom your costume full face mask needs to be taken off. Masks for COVID protection are still required today.
2. High School girls interested in going out for basketball please up in the main office by Friday, Oct 30th. There will be a meeting Monday, Nov 2 @ 3:30 in Mr. Wild's room.