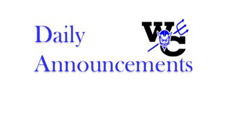 Daily Announcements
Robin Fliehler
Thursday, October 29, 2020
Daily Announcements
Thursday, October 29th
Day 43
Today's Activities:
Saturday: State Cross Country Meet at Fort Dodge: Girls @10:30 and Boys @11:00
1. Open gym will start this week on Monday and Wednesdays from 3:30-5:30 and Tuesday and Thursday at 7pm.
2. High School girls interested in going out for basketball please up in the main office by Friday, Oct 30th. There will be a meeting Monday, Nov 2 @ 3:30 in Mr. Wild's room.
3. On Friday the 30th, 6-12th grade will have the opportunity to dress up in Halloween costumes for $1. The student government will be providing snacks for 9th hour.