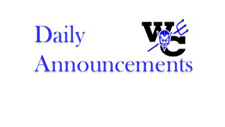 Daily Announcements
Robin Fliehler
Friday, October 16, 2020
Daily Announcements
Friday, October 16th
Day 33
Today's Activities:
FB @ Gladbrook-Reinbeck 7pm
JH volleyball girls please turn in your uniforms to the office by the end day.

Conference Cross Country results from the Conference meet last night:
The girls varsity team, which includes WC's Annika Kent-Thomas and Juliana Droll, were Conference Champions with a perfect score of 15. They had six runners earn All-Conference honors as well! The varsity boys finished in third place as a team, with two runners earning All-Conference honors, including WC's Charlie Sieck.
The junior high boys were also Conference Champions, which included WC's Wyatt Nelson.
Also congratulations to the volleyball team on becoming conference champs!