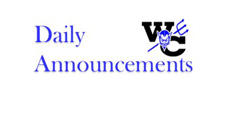 Daily Announcements
Robin Fliehler
Thursday, October 15, 2020
Daily Announcements
Thursday, October 15th
Day 32
Today's Activities:
VB vs Clayton Ridge 5:30pm HS CC (Starmont) Conference Meet 4:15pm - dismiss at 2:45, leaving at 3pm
FRIDAY: FB @ Gladbrook-Reinbeck 7pm
Come support the Cross Country team on TONIGHT @ Starmont for the Conference Meet. Racing will begin at 4:15. The varsity girls team is currently ranked 6th in the State and the boys team has two runners ranked in the top 30 individually in 2A.

JH football gear needs to be turned in TODAY. This would include the bag and the rest of your football gear - all laundered and clean.
JH volleyball girls please turn in your uniforms to the office by the end of this week.