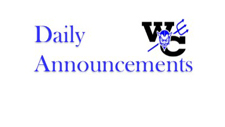 Daily Announcements
Robin Fliehler
Wednesday, October 07, 2020
Daily Announcements
Wednesday, October 7th
Day 27
Today's Activities:
THURSDAY: Parent/Teacher Conferences JH VB vs N-P 4:15pm
FRIDAY: NO SCHOOL FB @ Central City 7pm - leaving at 4:15pm
Spring college classes are on the NICC web site. Mr. Milder will begin registering current students next Monday.

Any football player that is missing theirwhite jersey, contact Mr. Milder.

Any sophomore or junior that is interested in taking the PSAT National Merit see Mr. Milder. The test is next Wednesday cost is $17.