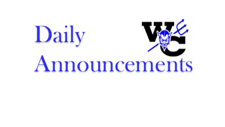 Daily Announcements
Robin Fliehler
Wednesday, September 30, 2020
Daily Announcements
Wednesday, September 30th
Day 22
Today's Activities:
THURSDAY: JH VB vs So Winn 4:15pm VB vs Postville 5:30pm
FRIDAY: Homecoming - FB vs Riceville 7pm
Congratulations to Dan McDonough and Bryleigh Rouse on becoming West Central's 2020 Homecoming King and Queen.

We are off to a great start to the Homecoming week's activities. But as a reminder, in order to keep the festivities fun and moving forward, please adhere to the dress code. Keep in mind even though this is a fun week, rules and policies still are in affect and should be followed. Thank you for participating in the dress up days and enjoy the week!