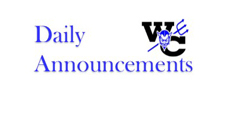 Daily Announcements
Robin Fliehler
Tuesday, September 22, 2020
Daily Announcements
Tuesday, September 22nd
Day 16
Today's Activities: **SCHOOL PICTURES
**JH VB @ Clarksville 4:15pm - leaving at 3pm,
dismissing at end of 8th hour
**VB @ Turkey Valley 5:30pm - leaving at 4:15pm **JH/HS CC @ Waukon 4pm - leaving at 1:30, dismissing at 1:15
THURSDAY: **JH VB @ Dunkerton 4:15pm - leaving at 3:15, dismissing at 3:05 FRIDAY: FB @ Central 7pm - leaving at 5pm
A silent football jersey auction will begin on Thursday, September 24th at noon and ends on Monday, September 28th at 8am. All bids will be paid for on the 28th. Winners will have use of the jersey during Homecoming Week including Jersey Night October 1st.