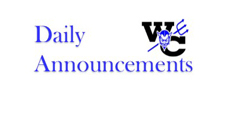 Daily Announcements
Robin Fliehler
Friday, September 18, 2020
Daily Announcements
Friday, September 18th
Day 14
Today's Activities: JV/V FB @ Midland 5:30/7pm - dismiss after 8th hour, leaving at 3pm
Another order of football shirts will be placed. Please have your orders in the office by TODAY noon.

ALL JH/HS students must use the main doors to enter and exit the building.
Today at the end of 8th hour 8-12 grade go straight to the track - you will not go to your homeroom.