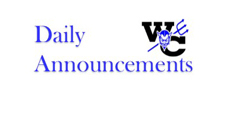 Daily Announcements
Robin Fliehler
Tuesday, September 15, 2020
Daily Announcements
Tuesday, September 15th
Day 11
Today's Activities: JV/V CC home meet at Starmont 4:30 - dismiss at end of 8th hour, leaving at 3. THURSDAY: VB vs So Winn 5:30 JH VB @ NFV 4:15 - dismiss at 3:05 - leaving at 3:15 FRIDAY: JV/V FB @ Midland 5:30/7pm - dismiss after 8th hour, leaving at 3pm
Another order of football shirts will be placed. Please have your orders in the office by Friday (18th) noon.

Student Gov't will have their meeting on Thursday this week.

Reminder: 8th-12th grade will be at home, online learning, on Wednesday.

JH sports photos will be Wednesday during your normal practice time.

HS students are reminded to vote for your class' student government officers by the end of the day (Tuesday).

ALL JH/HS students must use the main doors to enter and exit the building.

There is no junior high cross country practice today.