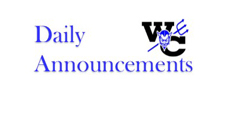 Daily Announcements March 2
Robin Fliehler
Monday, March 02, 2020
Daily Announcements Monday, March 2nd Day 120
Today's Activities: Winter Sports Banquet 6pm TUESDAY: Student Gov't to Maple Crest WEDNESDAY: Blood Drive
1.Congratulations to our Individual Speech Participants! The following students made West Central proud on Saturday at the District Speech Competition at MFL: Rachel Walenceus, Rosita Hepperle, Cooper Ingels, Erin Hamlett, Carley Miller, Maria Streif, Gracelyn Neumann, and Evan Recker. Rachel and Erin will advance to the State Competition for their performances in Musical Theater and Prose. State Speech will be held at Starmont on March 14 and we invite you to support these talented ladies!
2. There will be a meeting at 3:10 on Wednesday in Mrs. VandeVorde's for anyone interested in performing in the Variety Show on April 4. Please attend the meeting if you have questions or are at all wanting to be a part of the show.
3. There is a sign up sheet in the office for anyone interested in golf.
4. Freshman D and F students will report to Mrs. Wells room 9th Hour from now on.
5. HS boys basketball players will meet on Wednesday March 4th after school in the college classroom to turn in CLEAN uniforms and discuss off season schedule.
6. The winter sports banquet is TONIGHT at 6pm. Please bring a side dish or a dessert to share. Booster Club will be providing pizza and asking for free will donation.
7. Girls basketball players need to bring their clean uniforms, practice jerseys and warmups to the banquet tonight.